Episodes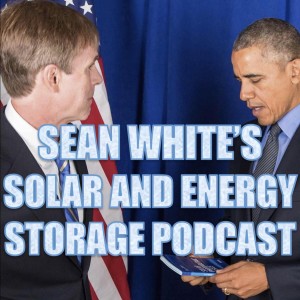 Wednesday Oct 20, 2021
Wednesday Oct 20, 2021
This is an audio version of the workshop that Sean White taught at the ASES conference at the University of Colorado Boulder on August 6, 2021. To see a video version, go to www.solarSEAN.com for a link to Sean's YouTube channel or find some of this material in Sean's classes at www.HeatSpring.com/sean
You can also find most of the material form Sean's Intensive PV workshop at the ASES conference, which was covered in the last podcast listed on HeatSpring for 2 hours of free NABCEP CE credit at https://www.heatspring.com/courses/introduction-to-solar-pv-design-installation-and-code?aff_id=t3nlgw 
Here is the description of the workshop straight from the ASES.org website:
This workshop will be jam-packed with NEC insight and interpretation. Sean White teaches PV courses around the world and has authored many technical PV books. Solar Photovoltaic Basics 2nd Ed., Energy Storage Basics, Solar PV Engineering and Installation 2nd Ed., Solar PV Technical Sales and PV and the NEC 2nd Ed. Sean will fill you up with as much information as possible in the time given, while entertaining you. This year Sean will focus more on Energy Storage Systems (ESS) than he has in the past.
Did you know that the NEC allows us to backfeed your house with electric vehicles (EVs) and that it is just the EV manufacturers holding us back? Be ready for when EV manufacturers let us do what they already should have.
This course will count for NABCEP continuing education requirements in every category and will also count for prerequisites for NABCEP Certification.
This course will also include a $200 discount for Sean's advanced online PV classes.
A printable color digital certificate included with course, along with .pdf files of the presentation.
Your instructor is based in the US and teaches classes internationally. His resume can be seen here www.maximumpowerpointtraining.com
Be sure to check out next year's ASES conference in Albuquerque New Mexico on June 20-24 ases.org/conference see you there!
go to www.solarSEAN.com