Episodes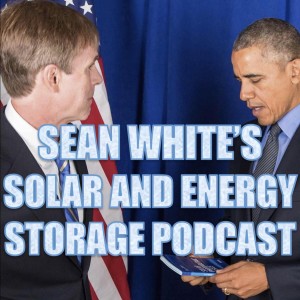 Wednesday Jun 01, 2022
Wednesday Jun 01, 2022
Some of the areas of the NEC that we cover in this podcast are:
Ground Fault Protection, Ground Fault Detection and interruption (GFDI) term clarified (not to be confused with GFCI), 690.45 Equipment Grounding Conductors (EGC) includes DC and AC not having to increase size of EGC when upsizing current carrying conductor for voltage drop (now also applies to AC PV and modifies NEC 250.122), 250.122 EGC sized based on OCPD, Microgrid Interconnect Device (MID), Interactive Mode vs. Voltage Mode, putting multiple inverters prior to the first OCPD, 705.13 Power Control Systems (PCS) was changed to Energy Management Systems (EMS), EMS was previously just for loads, Tesla Powerwall, PCS is not the part of the EMS that is controlling sources, Batteries as Source and Load, EVs Article 625, and more!
Quotes: Bill Brooks (soon to be famous quotes).
"Changes in size for voltage drop do not have to increase the size of the equipment grounding conductor"
"It's penalizing you for doing the right thing" Bill on 250.122 upsizing the EGC for voltage drop."
"All we've done is we've taken the microgrid interconnect device and stuck it inside the inverter" Bill on multimode inverter with 2 AC outputs."
"We could have a system that was 50kW going into a 100A service." 
"We have large systems right now, that have a 5MW interconnection that have a 30 PV array on them." 
"You can run a 400A feed to a large EV charging area, you can put 20 cars on it." "The controller would never allow you to draw more than 400A."
"You have a controller that prevents the conductors from receiving too much current."
"At the end of the day, the NEC is all about safety. It's all about, we do not burn buildings down with correctly installed electrical equipment."
This is a recording of part of an NEC workshop at the Intersolar 2022 conference at the Long Beach California Convention Center in January 2022.
The workshop was titled:
Energy Storage, PV and the NEC.
Bill Brooks is instrumental in the process of coming up with material for the NEC for renewable energy systems, especially for solar, energy storage and interconnections. Although the 2023 NEC has not been finalized or published, this is as good of a preview as you can get for knowing what the future will bring. Many manufacturers, engineers, CEOs and other decisionmakers can make better informed decisions about the future, knowing what will be in the National Electrical Code.
Bill Brooks is on NEC Code Making Panel 4 (the alternative energy panel) and has been perhaps the most active member of the PV Industry Forum, which is where new material for the NEC for Solar PV, Energy Storage and Interconnections are made. Bill has been working on Codes and Standards for 34 years. Bill Brooks and Sean White also published the book PV and the NEC.
Note: This podcast was recorded on an iPhone 13 and to my surprise the recording quality was way better than expected, so we decided to podcast it!
WARNING: Bill Brooks and Sean White sometimes think they are funny. If you disagree with this and do not like dad jokes, do not listen to this podcast.